Patient Advantages
THE BENEFITS OF VICTORS CARE
DIRECT COMMUNICATION - 24/7 telephone access to your Victors Care primary care physician – maintaining a dialog and building a relationship for the long term.
NO RUSH - Unhurried office visits that last as long as necessary.
EXPERTISE - The best-in-class knowledge, skill and training you expect from University of Michigan medical professionals.
COMPLETE CARE - A full range of care including wellness, prevention, chronic disease management, and complex care.
CONVENIENCE - Enjoy same or next day appointments that accommodate your schedule. We also offer telephone consults for problems that may not require an office visit.
CARE COORDINATION - Our staff will assist you in scheduling specialty consults and diagnostic testing when indicated.
COMFORT - Minimum time spent in waiting area or exam rooms.
LOCATION - A convenient, private clinic with free parking.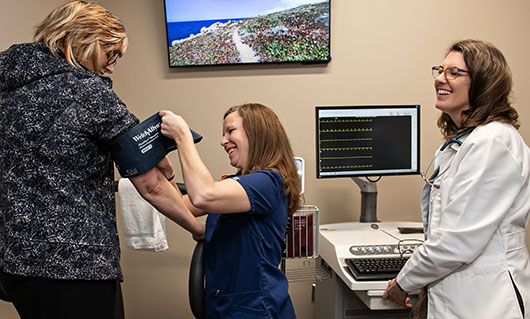 IS VICTORS CARE RIGHT FOR YOU?
Victors Care is designed to meet the needs of a variety of individuals, including:
Any patient who wants more one-on-one time with their doctor, including elderly individuals and those with chronic or complex conditions
Time-pressed professionals looking to enhance both the quality and convenience of health care for themselves and their families
Proactive individuals interested in both high-tech and high-touch ways to partner with their primary care doctor 24/7
Organizations looking to maximize the value of their executive health programs
COMPREHENSIVE HEALTH ASSESSMENT AND PERSONALIZED CARE PLAN
Victors Care enrollment begins with a comprehensive health assessment. This exam drives the development of a personalized wellness, prevention and treatment plan you and your doctor will review in detail.
Comprehensive history
Extensive physical exam
Exercise stress test
EKG
Health risk appraisal
Body composition analysis by impedance
Height, weight, blood pressure, pulse, oxygen saturation
Audiometric test (Hearing exam)
Visual exam (Eye exam)
Glaucoma test
Pulmonary function test (Lung function study)
Lab tests included at physical exam only

Hemoglobin A1C (Diabetes screening)
Complete blood cell count (platelet, RBC, WBC, hemoglobin, hematocrit)
Lipid profile (cholesterol, triglycerides, HDL, LDL)
Comprehensive metabolic panel (glucose, calcium, electrolytes, kidney function, and liver enzymes)
TSH (blood test to detect thyroid gland function)
Urinalysis
Urine micro albumin (screening for kidney dysfunction)
High sensitivity crp
Vitamin D
PSA (male, screening for prostate cancer)

Pap/pelvic (procedure only, pathology not included)
Coronary artery calcium scan
Physician-provided nutrition counseling
Physician-provided exercise counseling
A written summary report detailing the doctor's findings and recommendations
As appropriate